The goal of the project was to organize a structure teaching women in the regions of compact settlement of minorities in their native language about breast pathology and the breast self-examination; to prepare health care teams (general doctors, dentists, cardiologists, neurologists, therapeutics and nurses of policlinics and health care centers) as trainers for further promotion of the early reveal of breast cancer; to establish a network in the regions of Georgia with compact settlement of minorities (Mtsxeta, Axali-Gori,Gardabani,Tetri-Tskaro,Bordjomi,Axaltsixe,), to continue working in the region; to publish brochures in 3 languages Russian, Azer, Armenian and to distribute special necklaces, to raise awareness through publication the information in newspapers in the above mentioned languages; to examine women. All activities planned within the project were carried out.
The basis of our project was to implement two of three approaches to screening for breast cancer: clinical breast examination (CBE) and breast self-examination relying on manual palpation of breast.
CBE is conducted by health workers who have been taught how to palpate and inspect women's breasts for lumps and other symptoms of cancer (106 doctors and 94 nurses were trained). All 531 women who visited us during our work received annual CBE. Also we invited already operated on Breast Cancer women for examination.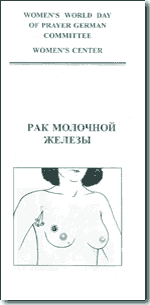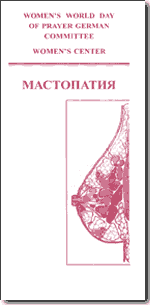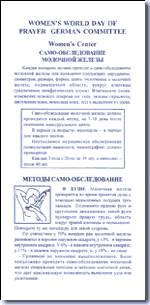 According to literature this technique has been estimated to have a sensitivity of 54 % and specificity of 94 % noting the effectiveness of CBE in reducing mortality. A few studies suggest that this approach may offer some benefit: a large-scale mammography trial in Canada, for example, concluded that CBE alone was as effective in reducing mortality as a combination of CBE and mammography. Mass screening with annual CBE in Japan also has been associated with reduced breast cancer mortality.
The effectiveness of CBE depends entirely on health workers' skills. It is important to use the proven training strategies and standardized techniques. Training in breast examination techniques yields better results when silicone breast model are used to practice palpation. By this reason we held training by using a silicon breast model and also special necklace which consists of beads which are sized according to the size of a tumour a woman should be looking for. The smallest one is the size of a pea and the largest the size of a walnut.
Trained nurses can perform CBE as well as physicians, and it is possible to train community health workers and women to conduct the breast-self examination.
Another manual screening method, breast self-examination, has been endorsed and widely promoted by our organizations. We published booklets and articles in the newspapers in their native languages Azir, Armenian, Russian and Georgian to reach every woman.
It should be noted that CBE has more possibility to reveal breast tumour than mammography.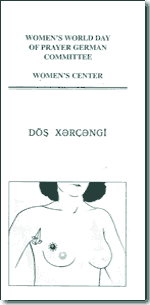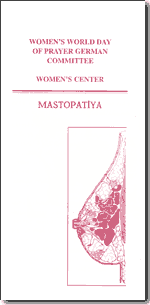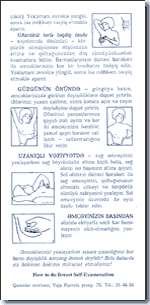 Mammography can identify cancers and breast abnormalities that are too small to palpate, so its sensitivity (83 to 95%) is far higher than the sensitivity of CBE, particularly, among post-menopausal women who have less dense breast tissue.
Furthermore, mammograms do not find every tumour; they miss 10% of all cancers in women over 50 and even in young women, because mammography is less sensitive in younger women, and because disagree whether it is cost-effective to screen women under age 50.
During our work we didn't use widely the third screening methods of mammography, we sent only 52 women to detect tumours and anomalies in the breast (expenses covered by regional Municipal program)
According to the project 106 doctors and 94 nurses were trained in 6 regional towns of Georgia with compact settlement of minorities.
The doctors and nurses were invited from 43 villages near the regional center.
We Published 3 booklets - Breast Cancer, Mastopatia. How to do breast self-examination (in 3 languages); made necklaces – 300 samples.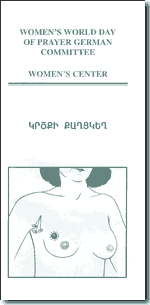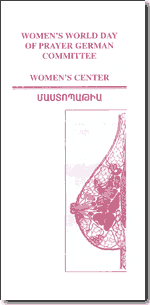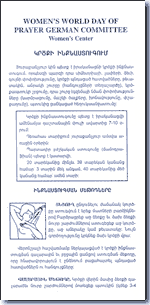 In each region we made announcements in the newspapers about the program and invited women for examination, wrote articles in local newspaper in native languages in the regions of compact settlement of minorities. In 2 towns of Axalktsixe and Bordjomi we sent letters to all patients who were registered.
Before beginning the work in the region we met with governmental representatives and received conformation about working on this program and asked their support for opening a room for women to get information.
Total 531 women applied for examination, 90 from them were already operated on breast cancer. Others had some problems or thought that they had cancer.
The results of our work show that from 441 women which for the first time applied to us 32.(7,2%) had breast cancer, 59(13,4%) mastopatia,90(20,4%) fibroadenoma, intraductal papilloma 23 (5,2%).
(World Day Prayer German Committee)