First AIDS Action Europe Member and Partner meeting - East meets West.
First AAE Member Meeting that took place on November 5, at the AIDS Action Europe offices in Berlin in 2016. The meeting - was attended by 33 participants from 16 countries from the WHO European Region.

During the meeting (Union Women Center –Georgia, HPLGBT -Ukraine, Sudmand -Tajikistan, -Rozkos, bez Rizika - Check Republic , Center for Life –Greece) made presentations on the needs of civil society organizations in the response to the HIV epidemic and what role should AAE take in order to support its members in terms of advocacy and communication.

This meeting proved was an important instrument in the development of AAE's strategic directions for 2018-2021. AAE received valuable input from its members and partners regarding their needs in advocacy, capacity building and technical support. Monitoring policy implementation, "monitoring the monitors" (including those of our own organisations) and observing the quality behind data were topics named in a working group that addressed the role of AAE as Civil Society watch dog. And last but not least Communication: The working group suggested to improve the network as a community of practice. With the Clearinghouse AAE provides a database that still has room for improved, community driven linking and learning.

The meeting also aimed to discuss at the needs of organizations in EECA countries. This region faces extraordinary challenges and particular concerns regarding the 90-90-90 goals were shared. Access to ART remains very high on the agenda. Also, the good practice in western countries is not necessarily a good practice in EECA countries. Often more than only adaption is needed to make an instrument work.

There is a lot to do in the upcoming four years and it became clear that this is not a one way road. AAE can only be successful if the organisations work together, share information and good practice, and join efforts. As Deirdre Seery from the Sexual Health Centre in Cork, Ireland said in her presentation: We are all AIDS Action Europe. In this meeting Union Women Center make presentation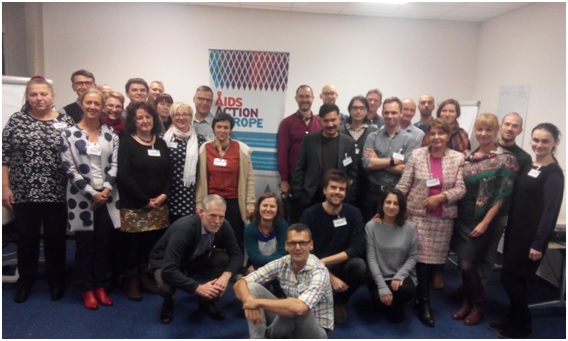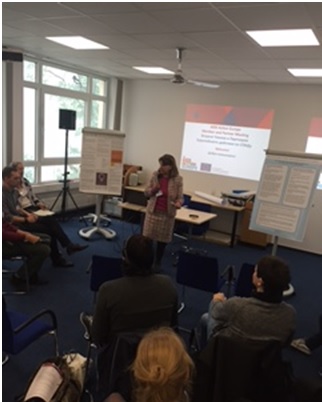 From 2004 we are a member of AIDS Action Europe were we present Georgia as part of network
AIDS Action Europe ensures that voices of civil society and people living with HV are heard by policy makers, European institutions and key stakeholders. And that a human rights framework stays at the heart of the response to the epidemic. As co-chair of the HIV/AIDS Civil Society Forum – the NGO advisory body to the European Commission on HIV - play a central role in policy development and direct dialogue between policy makers and civil society on European HIV policies.

International AIDS Society (IAS )
From 2005 Women's Center co-operates with The International AIDS Society. We took part in the world's famous international conferences on HIV and AIDS, made presentation and took part in dialogue and networking.

The Sexual Violence Research Initiative (SVRI)
From 2007 member of coordinating group expert . The SVRI aims to promote research on sexual violence and generate empirical data that ensures sexual violence is recognized as a priority public health problem.
Union Alternative Georgia
From 2011 adviser group member of Union Alternative Georgia which main sphere of activity drug dependence research; harm reduction advocacy, focusing on the promotion and support for effective evidence based strategies in the drugs field; development and support for pragmatic and humane drug and HIV legislation; and the protection of the rights of marginalized groups