The goals of present project is raising awareness for early detection of Breast Cancer among medical staff , examination of population and set up of a network of 180 person (doctors, nurses). A health care team - volunteers in 6 regional towns of the Autonomy Republic of Adjara (Makhindjauri, Batumi, Kobuleti, Keda, Khulo, Khelvachauri).
We organized a Round table for governmental representatives and Political Parties lobbying the health in each town (total 180 representatives); conducted preventative examinations for breast cancer, thyroid pathology. Showing the prototype of a necklace, explained that the beads are sized according to the sizes of a tumour a women should be looking for. We published booklets, information letters in the newspapers.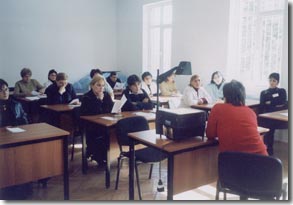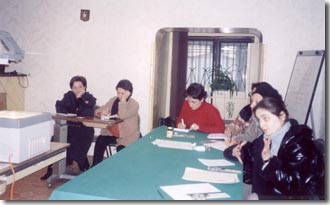 The basis of our project was to give information to doctors and nurses about breast cancer prevention and to implement two of three approaches to screening for breast cancer - clinical breast examination (CBE) and breast -self examination relying on manual palpation of breast.
126 doctors and 126 nurses were trained. All 324 women who visited us during our work received annual CBE. Also we invited the women already operated on Breast Cancer for examination and consultation
To reach every woman we published booklets in their native languages, published articles about mastopathia, breast-self examination and breast cancer in the local and central newspapers.
In each region we made announcement in the newspapers about program and invited women for examination, wrote articles in local newspapers in Keda (1 article), in Kobulety (2 article) and 3 articles in Central Newspaper of Adjara (Batumi), Maxindzauri, Xulo, Xelachauri doesn't have own newspaper.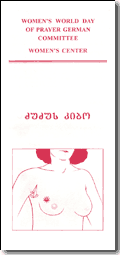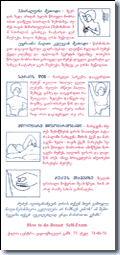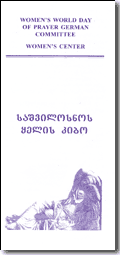 Total 478.women applied to us for examination, 49 from them were already operated on breast cance; others had some problems or thought they had cancer.
The results of our work show that from 429 women, which for the first time applied to us .25 women were diagnosed breast cancer (5,8%.), Mastopatia 100 women (23,3%) fibroadenoma – 62 women (14,5% ) intraductal papilloma 59 women (13,7 %).
CONCLUSION
Deaths from breast cancer occur disproportionately among women of different ethnic and socioeconomic backgrounds. Studies show that early detection of breast cancer can save lives. Many breast cancer deaths could be avoided by increasing cancer-screening rates among women at risk. By this reason we focus attention of doctors, nurses of women which attend our lectures on risk factors and how reveal breast pathology by BSE; give recommendations for frequency of screening by age (till 20 year BSE –monthly; 20-40 years breast physical examination q.1-2 year; after 40 year once a year physical examination or mammography. Timely mammography, in every 1–2 years for women aged 40 years and older can reduce mortality by approximately 20–25% over 10 years. In Adjara we implemented two of three approaches to screening for breast cancer - clinical breast examination (CBE) and breast self examination relying on manual palpation of breast.
Another manual screening method, breast self-examination has been endorsed and widely promoted by our organizations.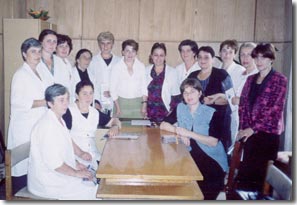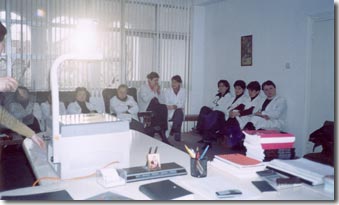 Analysis of our work shows that the main reason of BC development risk factors were the iodine deficiency, epidemic region and radiation levels which is in the Black Sea after Chernobyl disaster. The environmental factor of iodine deficiency is associated with the development of mammary pathology and cancer. During our work we paid attention to the fact of high percentage of breast pathology among young women which we think is in direct connection with the early age of sexual life, wide use of contraception without doctor's advice since the teenage period, very high percent of abortion, STD, HIV/AIDS.
On way to reduce incident of BC raise awareness, and establishing a screening programs it is necessary to train women about the symptoms characteristic for early stages of those diseases, which can be cured if revealed at the early stages. Absence of information and knowledge is probably one reason why the 4th stage of breast cancer has the highest percentage among new registered cases. That is why the prevention, early diagnosis and treatment of the disease are of great importance.
During the implementation of the project in regions we contacted with local churches, gave them the booklets and information for women where to apply in case of revealing the pathology.
This year Government of Georgia is financing training programs for doctors (to teach doctors the new methods of treatment).
Our project was directed to advocacy of government officials and policy makers to place breast cancer on the national agenda, to encourage the development of systematic health policies and service protocols, and to increase women's access to detection and treatment service.
Our work assists the governmental and medical staff with building capacity of work to provide evidence-based (targeted Breast Cancer) information, education and health services to most vulnerable women of community, to measure effectiveness of interventions and adjusting the response accordingly.
(World Day Prayer German Committee)