Project directed to strengthen the capacity of IDP women which live in camps to lead community mobilization campaigns, to prevent trafficking in women and girls for the purpose of forced labor, sexual exploitation and to generate maximum levels of camp IDP involvement from health officials, police, teachers, cultural workers, religious leaders, and youth groups. In addition, development of the Youth Educational Program (YEP) for Prevention of Adolescent Trafficking and run it at schools. Project implement on Tserovani, Shashvebi and in Kvernaki camps . First time on the level of school children spoke about trafficking, the way of prevention and were they can get information, help. Prepared health responsible personnel for health of IDP's in these camps. Trained journalists.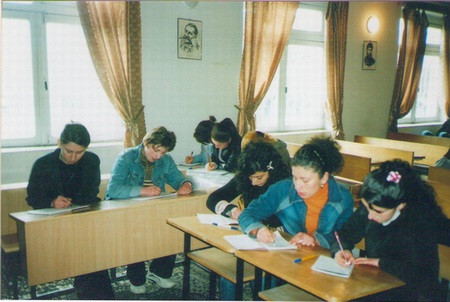 We held lectures at schools for 10,11,12 grade schoolchildren (total for 280 school children), trained 90 health professionals, organized lectures for IDP community (total 140 person), conducted a seminar-training for 15 journalists on trafficking, . Organized 3 Meeting with local camp authorities were 45 person took part . Training 15 Youth Educators ,creation volunteer network of community.
Created and publish booklets: "Phenomenon of Trafficking, State Response to Trafficking, Assistance and Protection Victims of Trafficking".