Objectives was to raise awareness about specific gender issues of HIV positive in women living in Georgia, especially regarding their reproductive and sexual health, establish collaboration between women's groups and HIV positive women of CEE countries in promoting sexual and reproductive health and rights due to the importance of SRHR in designing successful prevention programs.

Women's Center took part in implementation of project activity as ASTRA member country
Organize national advocacy training HIV positive women which include awareness raising components about gender issues and sexual and reproductive health and rights and clarified the needs of HIV positive women. Organize meeting with HIV positive women and choose one for participation in the seminar in Lvov for HIV-positive women from CEE counties which was directed on establishment contact and development mutual understanding about priority issues for each community.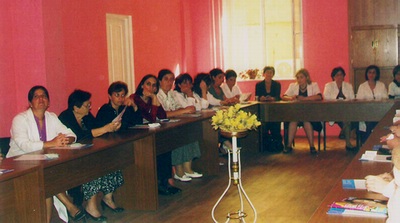 Jointly work with HIV positive women on awareness razing of country specific problem which this contingent in face and present in Warsaw on the pre HIV/AIDS XII meeting. We took part with HIV positive women on the plenary session of HIV /ADS XII conference and presented country report .Following Conference HIV positive women share information among HIV positive women group. It was first time when Georgian HIV positive women spoke about this community problem openly.

The aim of the project was to increase awareness on types of HIV/AIDS-related stigma and discrimination of HIV positive women, translate ASTRA statement specially prepared for AIDS conference into Georgian Language with the information of situation which HIV positive women faced in Georgia. Also, print the leaflets and organize round table, workshops with Doctors, Mass-Media , NGO's , Policy Makers.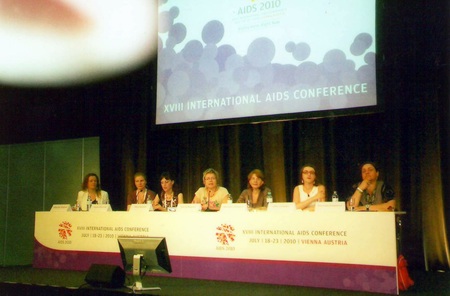 The topic cover of HIV/AIDS-related stigma and discrimination in healthcare in the workplace, restrictions on travel and stay. Community level stigma and discrimination towards people living with HIV/AIDS, role of family in providing support and care for people living with HIV and AIDS. Outcome of round-tables was to recommend how to change people's attitudes to AIDS

1. A certain amount can be achieved through the legal process.
2. Efforts should be made to improve early HIV diagnosis, stigma and discrimination of risk groups remains to be a major challenge as it creates significant barriers to HIV Prevention and service utilization. Low awareness of HIV not only among general public, but also among health care workers remains to be a major obstacle.
3. Increase the visibility of people with HIV/AIDS as a 'normal' part of any society
4. AIDS education need to be tackled at the community and national levels,
5. Involve mass-media in awareness of result of treatment HIV positive person which increase willing to be tested for HIV
6. Policies within health care settings can also be effective in reducing stigma
7. Training Health care providers on stigma and universal precautions
8. Create NGO with people living with HIV they could lead to a greater understanding their needs and the negative effect of stigma.